👋🏼 join my mailing list for news of upcoming projects and exhibitions.

---
---
exhibitions
---
nichola feldman-kiss \ SIREN Karen Alexander Curator Koffler Gallery Toronto 02.11.2022 - 05.03.2023

Collective Public Conversation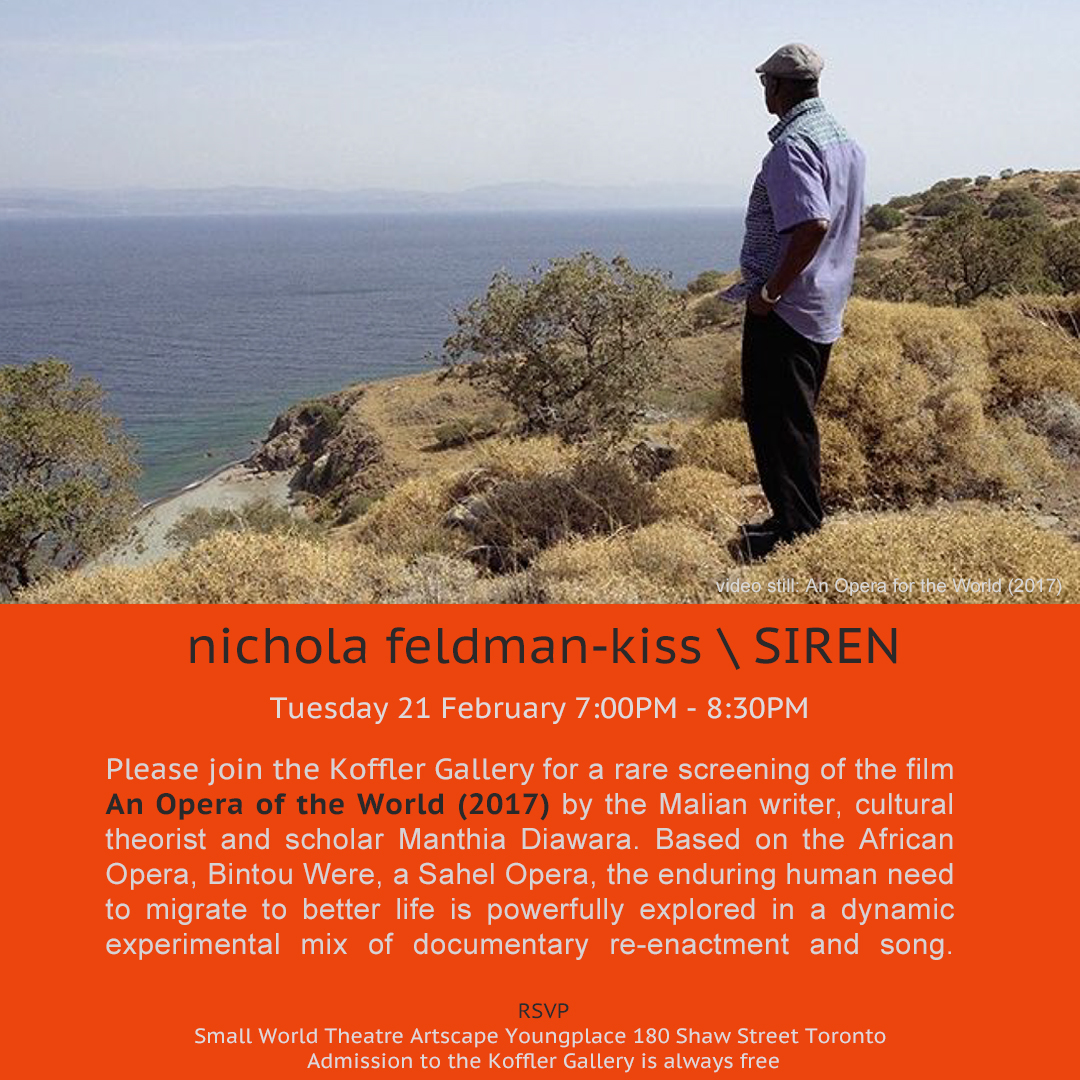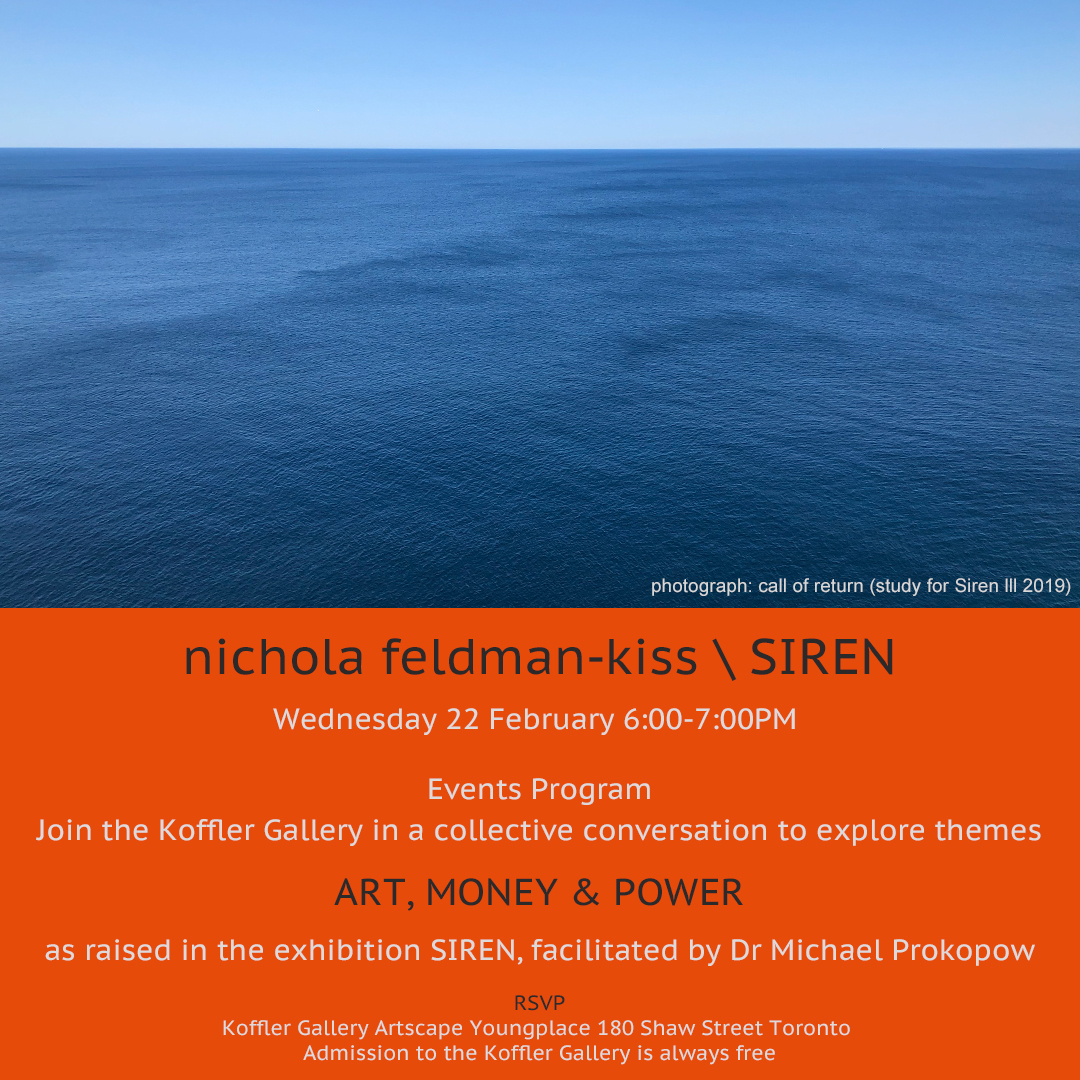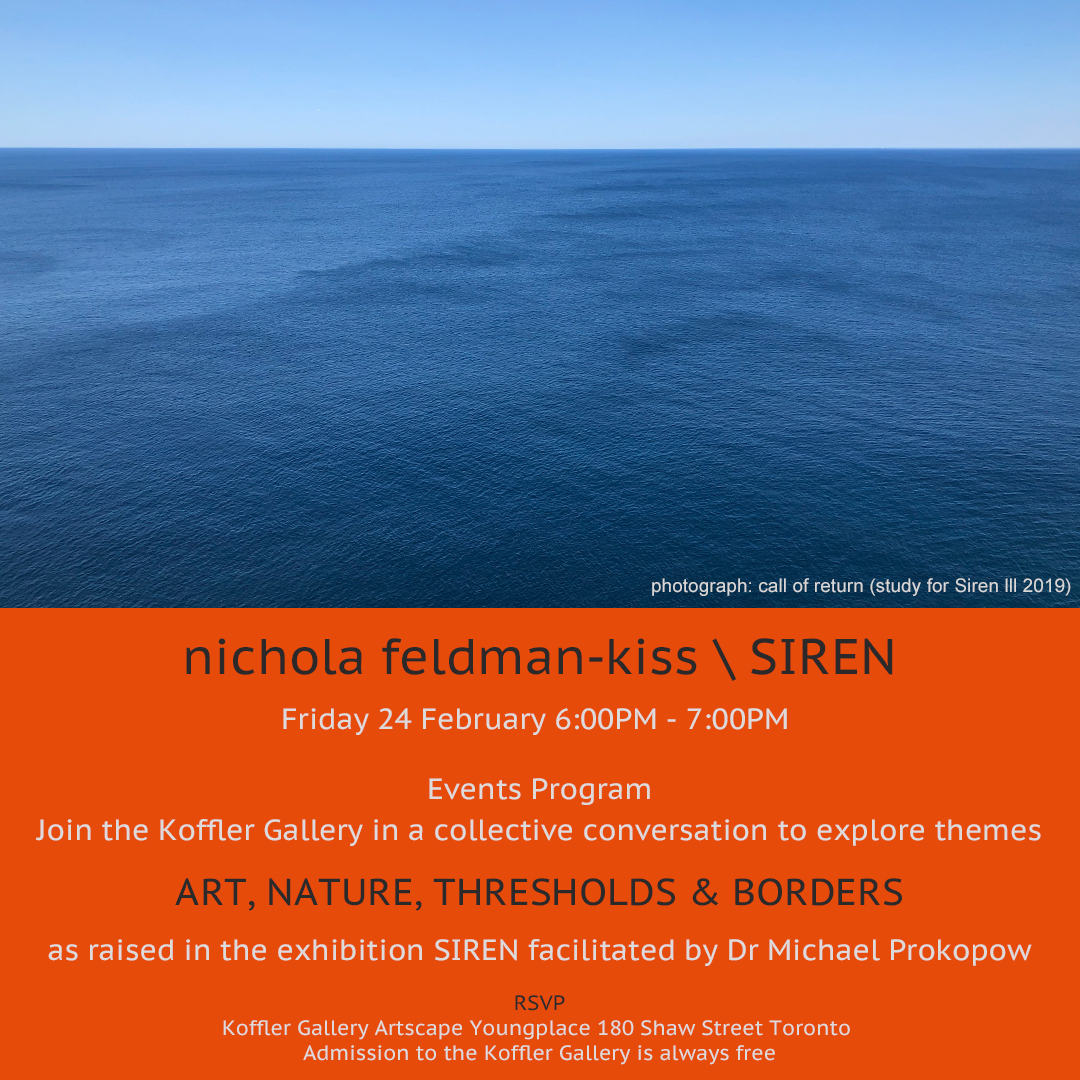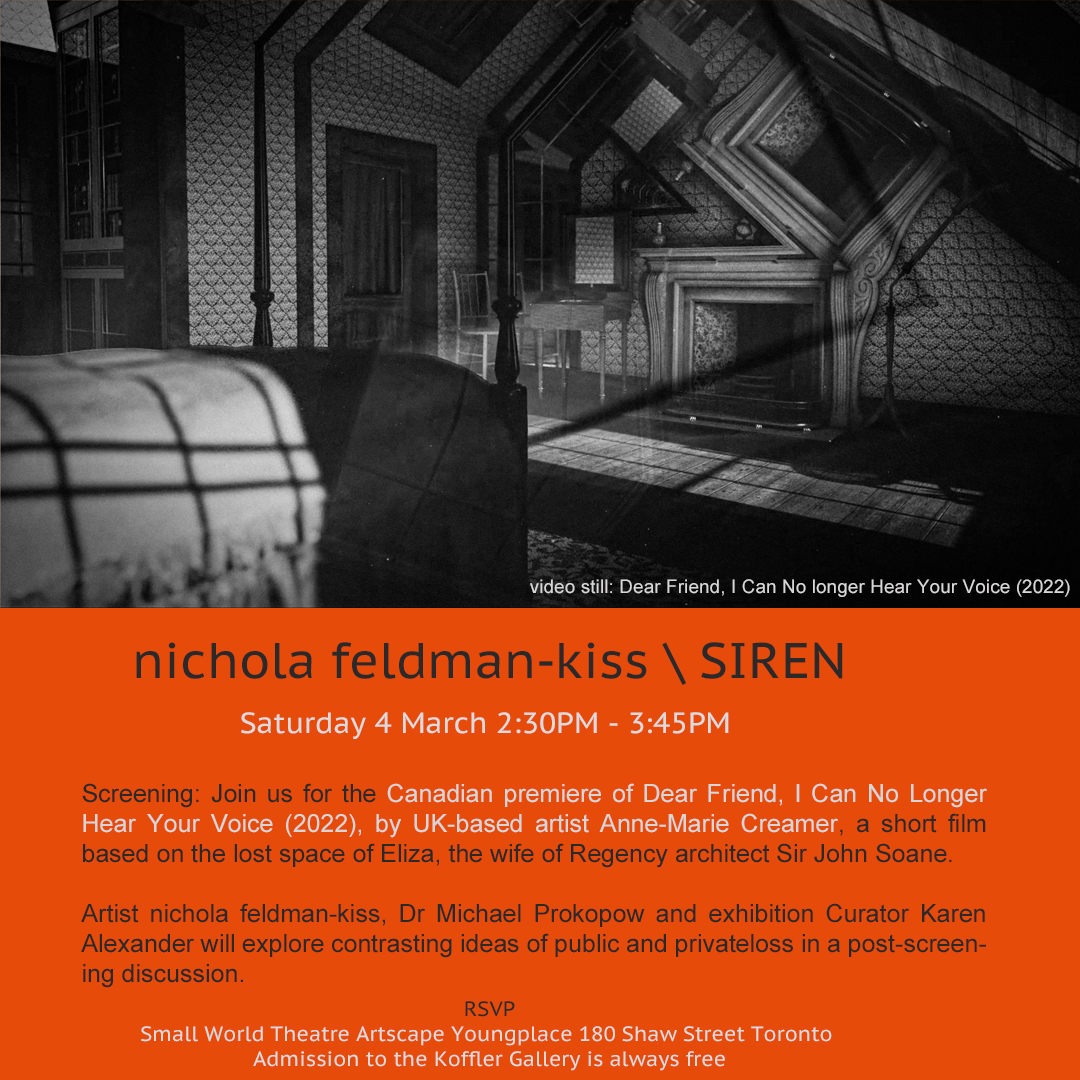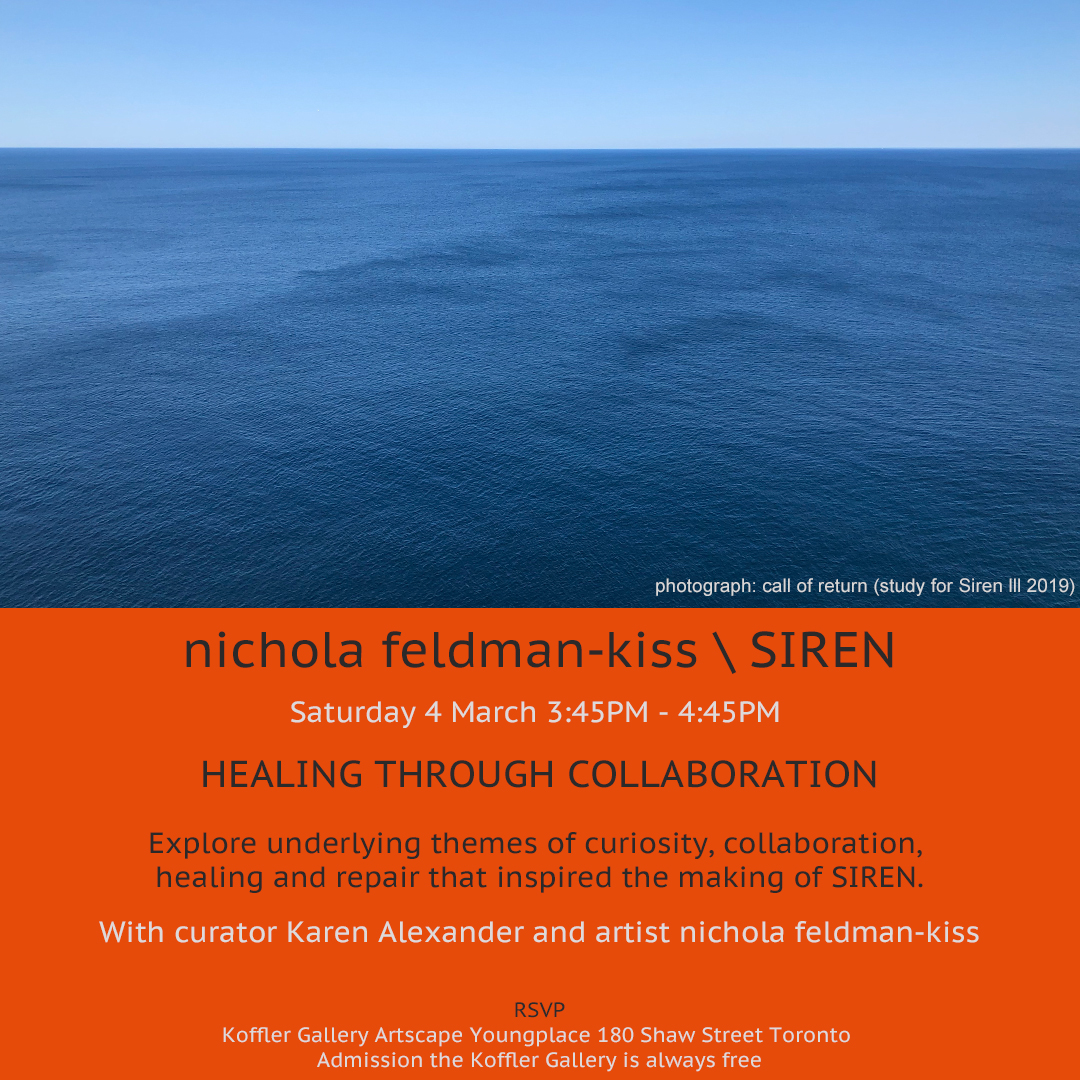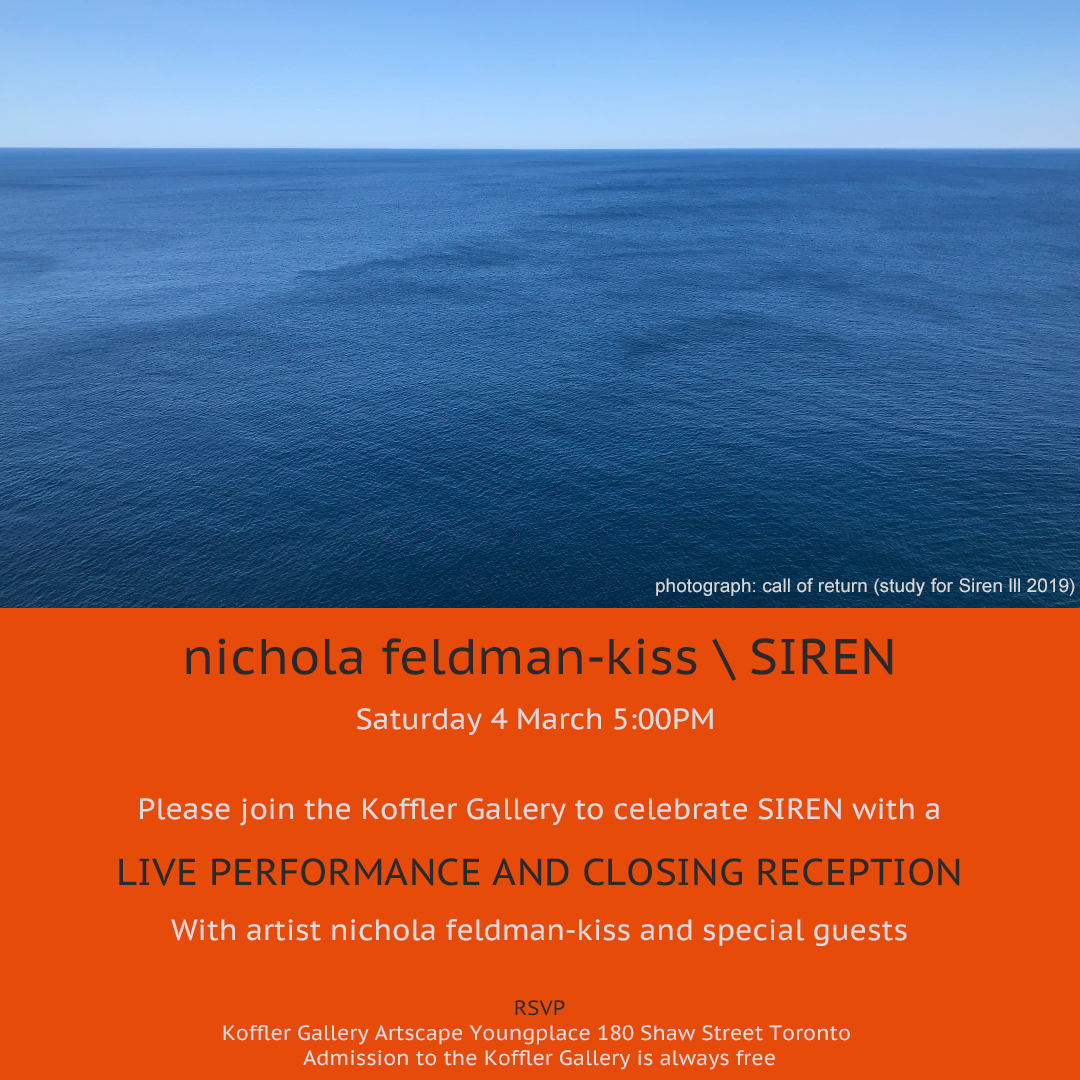 ---
feldman-kiss & Matheuszik \ refuge.earth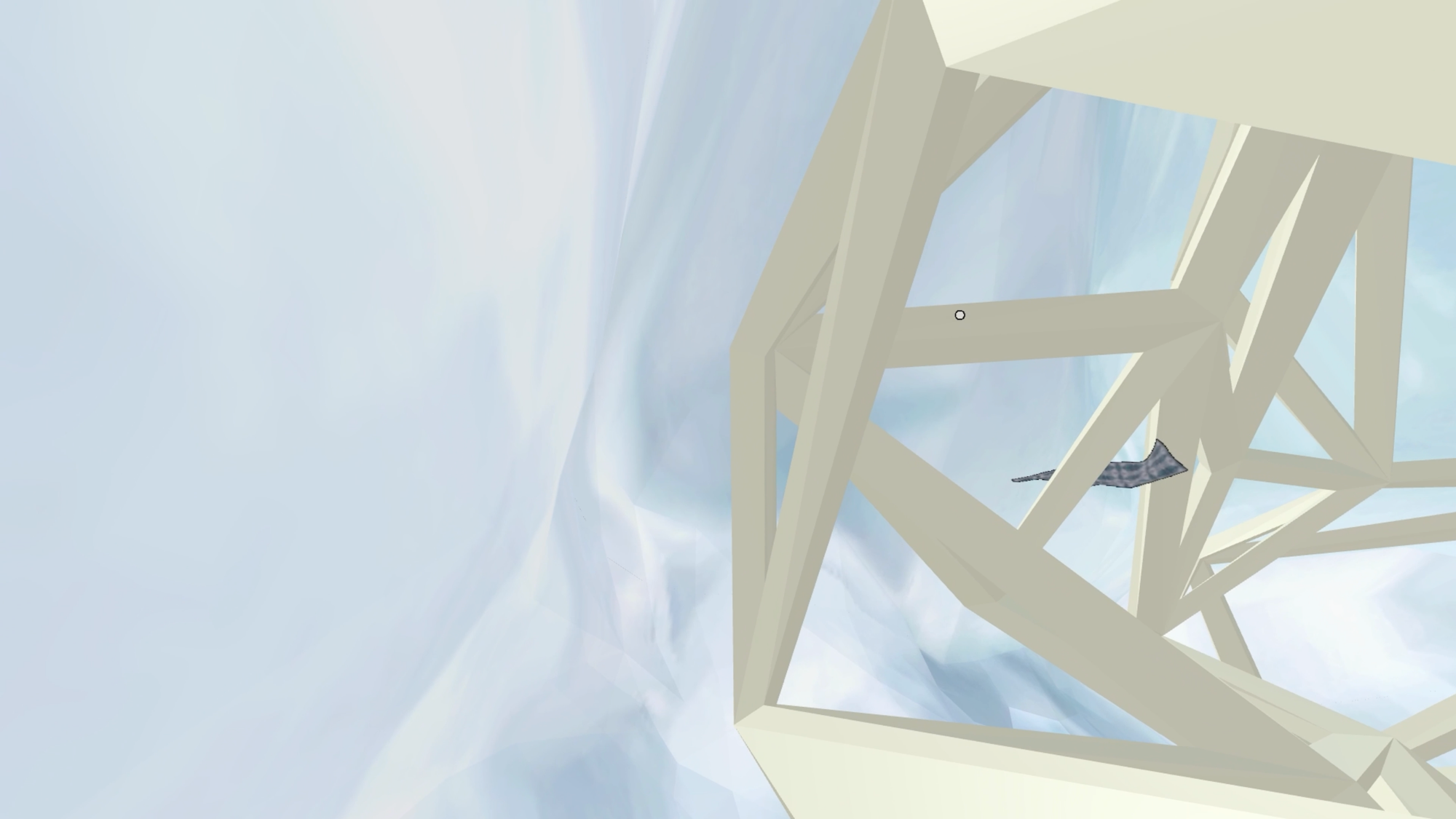 refuge.earth is a destination without borders or fences. Identification is not required for entry. There is no exit visa. Refuge neither demands nor imposes. It is a restorative retreat into a digital Neverland for weary browsers, surfers and digital nomads. refuge is conceived for quieting –a jewel of relief amidst the overwhelm of ungraspable immensity that is the Internet. refuge enables embodiment through sensory discovery –in spaciousness, light, colour, vibration and motion.
---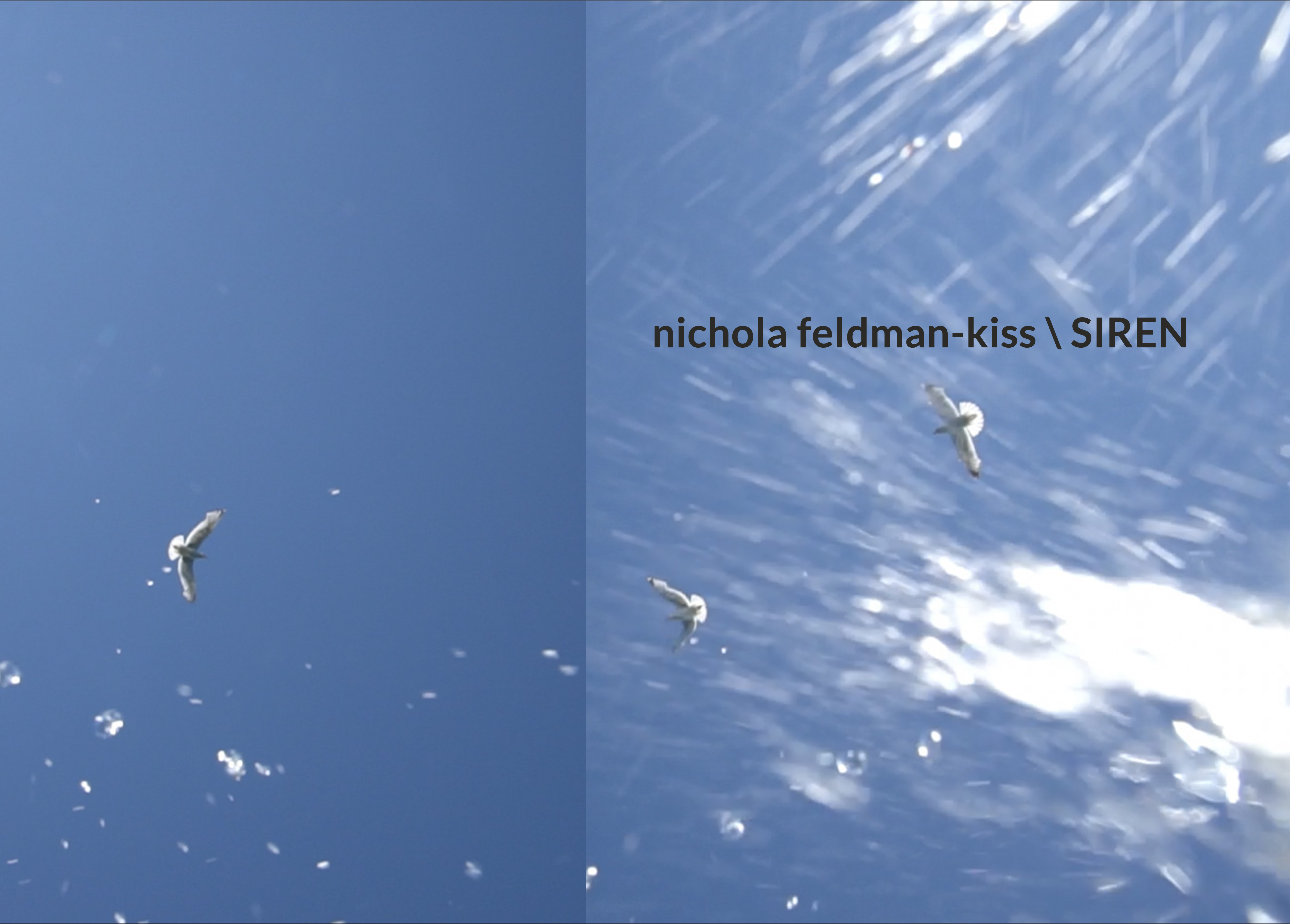 download nichola feldman-kiss \ SIREN gallery booklet 2023
SIREN is a solo exhibition by the Toronto-based inter-disciplinary artist nichola feldman-kiss. The multi-layered presentation encompasses Siren III, a new large-scale single-channel video installation and surfacings, a new installation of video prints commissioned for the entrance of the Koffler Gallery. At the core of SIREN is a reflection on concepts of diaspora, migration and displacement, the paradox of national boundaries and borders within an ecology of elemental flows.
SIREN makes unorthodox use of imaging technology and sonic harmonies to confront the significant humanitarian crises at the intersection of conflict and climate. Underwater video captured in Newfoundland is the root material for all the artworks on display. The dynamics, wonder and uncertainty of the open Ocean and aquatic exploration are reworked and reshaped into seductive keys to multi-layered and mutating memories. Predominantly filmed under a fracturing iceberg, a sense of human peril and environmental fragility resonate within the works. Informed by four years of research and experimentation, this presentation links oceanic memories of comfort and trauma with the brutal histories of the transportation of people as enslaved bodies and the contemporary realities of oceanic slavery and enforced political and economic migration across time and place.
feldman-kiss uses the gallery as a set for a series of encounters that reconfigure found narratives of survival. The harsh majesty of the Atlantic Ocean is harnessed and shaped into abstract portals to enable deeper connection with personal readings. Multi-layered static and moving images combined with haunting vocals offer profound moments of meditation within real and constructed memories. The carefully mixed and modulated soundtrack featuring a female chorus in ululation establishes a layer of connected human presence tempered with an ominous tension.
SIREN soundscape harmonics are composed of ululations. Ululations are a vocal practice performed individually and collectively as a kind of improvised vocal applause, celebrating arrival and clearing paths forward. SIREN harmonics arise from sonic diversity among geo-specific vocalisations in polyphonic play. Ululation is an ancient tradition that has moved about Africa, the Levant and diaspora over millennia of nomadic passages. Certain sonic innovations to ululation are uniquely possible within polycultural contexts such as Toronto.
In Siren III ululations act as a warning and Welcome, offering a primal presence of awakening and rescue. The polycultural harmonics call for a collective witnessing as the feminine voices accompany and guide us through the fragmented narrative, inviting audiences to perform as unseen witnesses to underwater scenes of near drowning, ascension, birth and rebirth.
Two texts served as primary inspiration for Siren III. The first was a 2017 video posted by Sea-Watch (A German non-governmental organisation operating in the Mediterranean Sea, notably by commissioning ships to search for and rescue imperilled migrant vessels and their passengers). Sea-Watch footage depicts coast guards protecting European borders from an inflatable boat full of vulnerable refugees. The second is Behrouz Boochani's celebrated book No Friends but the Mountains, which recalls the author's traumatic journey of escape and survival from Indonesia to Australia. SIREN calls on us collectively to look, think and, most importantly, feel beyond static surface identifications and historic repetitions and engage with materialised abstract visions of bodily loss, recovery, spiritual healing and the possibility of repair.
Siren has been generously supported by the Canada Council for the Arts and the Ontario Arts Council.
---
---
---
---
nichola feldman-kiss \ Scapegoat
This exhibition brings together two bodies of work by nichola feldman-kiss centred on the artist's prosocial, practice-based research that explores the role of the human body in geopolitics. As a first-generation Canadian with familial roots in the Caribbean and the Holocaust, their work unites the personal and the political through visceral hybrid-media installations that bring attention to the uncertainties, uncanny contradictions and injustices foundational to so-called postcolonial social systems.
Scapegoat began in 2015 in response to the multitude of violent conflicts raging internationally. Simultaneously prophetic and timely, the exhibition takes on new meaning as the world lurches from one global crisis to another, reckoning with the catastrophic consequences of settler colonial violence, social upheaval, and climate emergency. In this contentious era, as dialogues on retribution, repatriation and reconciliation come to the fore, what ethical roles and responsibilities do contemporary artists and museums have? feldman-kiss' work prompts audiences to reconsider difficult questions about what it means to be conscious social bodies in the current moment. 
Deep curiosity into their artistic subject propelled the artist into far away contexts to witness the tragedies of colonialism such as those that gave rise to the artist's own ancestral trajectories. Their uneasy online acquisition from a Canadian supplier of osteological specimens slated for the medical market led to experiential research within the international supply chains where trade relies on social inequity for profit. Conceptually rooted, Scapegoat evolved into a haunting portrait series about precarity and life, delving into how political gamesmanship can cast black and brown bodies as unwillingly positioned within a form of social death. 
The young men, with whom the artist has staged the work, embrace the bones with careful defiance. The specimens that make up the skeletal set approximate the age of those who cradle them. This demographic is most highly represented in the global statistical record of victims of militarized and state violence. The remains do not constitute one individual nor are they gendered; they are a collective body made visible. Arranged chromatically against the glowing background of a unifying brown, the viewer is challenged to meet these monumental figures with reverence. 
Together, artist and model, with their corporeal negotiation of tenderness and tension require us to be present before them and to enact an affective labour. Here, the very difficult and necessary work of grieving stands as both a personal endeavor and a collective ritual, demanding a confrontation with complex and contradictory forms of intimacy. In close proximity, a feminine presence embraces new life in a pastoral landscape. Mechanical butterflies surround the space, symbolizing transformation. No justice can return those lost, but what Scapegoat offers is a space of dignity for open mourning, for radical forms of witnessing, and for reimagining a different world.
Curated by Pamela Edmonds and Mona Filip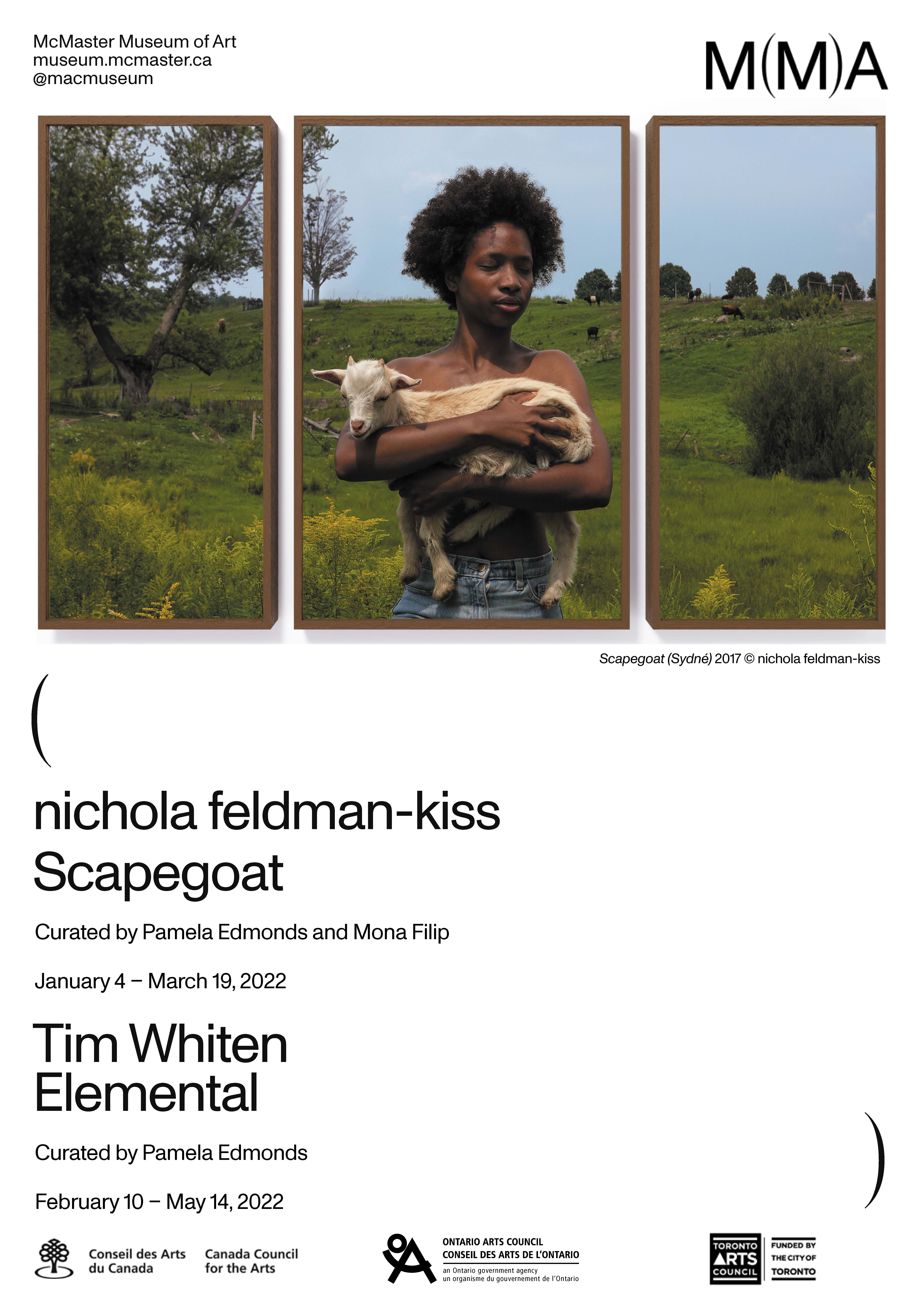 ---
nichola feldman-kiss \ Siren III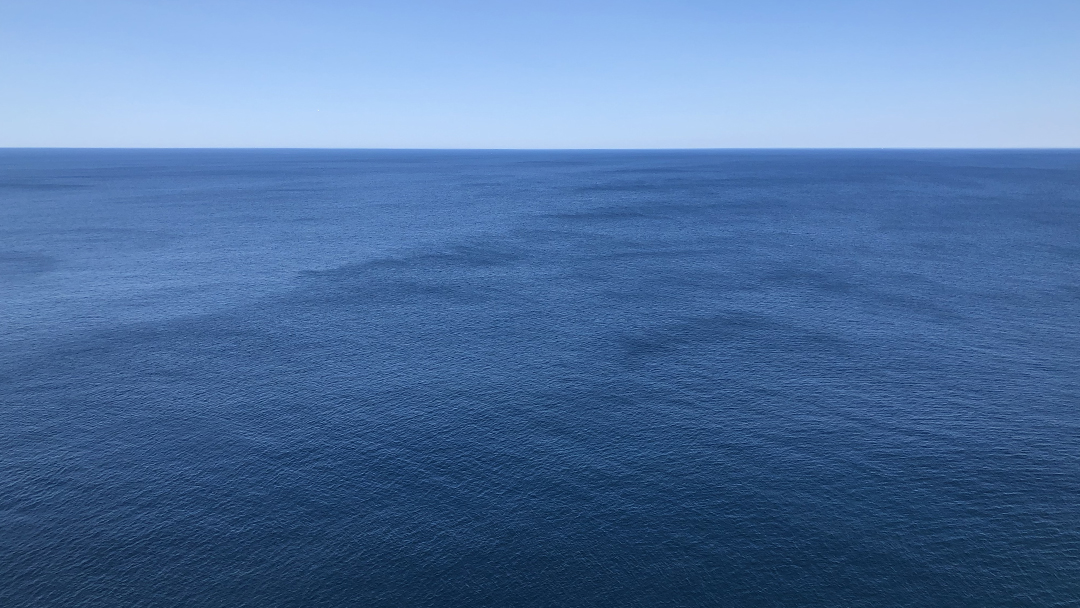 Siren III is a new video and sound installation by Toronto artist nichola feldman-kiss, building upon her series of politically provocative artworks that mine the local context and articulate reflections on worldwide stressors driving global migration, flights from homelands, and oceanic passages. Referencing traumatic histories alongside contemporary conditions of oppression rooted in conquest, border rule, and climate change, the artist's current explorations remain anchored in autobiography and ancestry.
In the installation, a monumental moving image immerses the viewer into the Atlantic's unsettling depths, resonant with the present absences of migrant, exiled, and enslaved people transported over centuries of forced displacement. The camera frames a subjective view of the turbulent water, turning each viewer into a lone protagonist lost at sea. Seeking the sunlight that penetrates the ocean's surface, the gaze wavers, at times piercing through, then sinking into the all-encompassing teal blue, and eventually ascending back toward the sky.
Descending, the camera's movements are calm, exploratory, perhaps entranced. An iceberg's massive underbelly comes into view and is approached with curiosity. The gaze caresses sensuous ice slopes and looks for entry through their crevices. The visual landscape seamlessly shifts from underwater cinematography to a digital environment, crafting a virtual, beguiling vision, both real and imagined.
Struggle, descent, drifting, and ascension are witnessed by a chorus of ululations that envelop the visitor within a volumetric soundscape. Common to feminine cultures across Africa, the Middle East, India, and their diasporas, ululations accompany ritual events and rites of passage such as births, weddings, and funerals. Whether celebratory or mournful, these vocal improvisations mark existential transitions, welcome arrivals, or perform a send-off into journey. Regional nuances are often influenced by political ideologies and societal codes that govern women's freedom to convey their emotions.
The polyphonic harmonies of Siren III derive from Toronto's unique multicultural context, integrating sonic variances that converged here through countless waves of migration, just like the artist's own familial lineages. Evoking the mythical sea creatures known to tempt sailors toward rocky shores and certain death with their enchanting song, the powerful chorus suggests an uncanny lure as well as a protective warning. These trilling sirens' purpose is more ambiguous, signaling both danger and rescue. They are guiding companions rather than threat, their visceral calls pulling the drowning back to life.
Development of Siren III began before the rising spread of COVID-19 and was later profoundly impacted by the pandemic. Relinquishing control and opening up to new possibilities, feldman-kiss embraced an intensely collaborative process and an intuitive response to imposed conditions. Remote cooperation strategies made possible the capture of underwater footage off the coast of Newfoundland; then video production turned to a mixed technique imbedding 3D animation within the initial recordings.
In these still unfolding circumstances, Siren III takes on new meanings as our collective fears and distress deepen amid a relentless menace. Reflecting on such innermost anxieties, inherited traumas, and lived ordeals, feldman-kiss articulates a meditation on the value of human life and an homage to the survival drive. In the face of devastation—a deadly virus, social unrest, economic hardship, war, and ecological collapse—Siren III offers a promise of solace, community, and delivery from troubled waters.
Mona Filip and Pamela Edmonds curators for Koffler Centre of the Arts 2022
---
nichola feldman kiss \ Siren lV

premier exhibition Scotiabank Contact Photography Festival 2022
---

TO REMEMBER AND REPAIR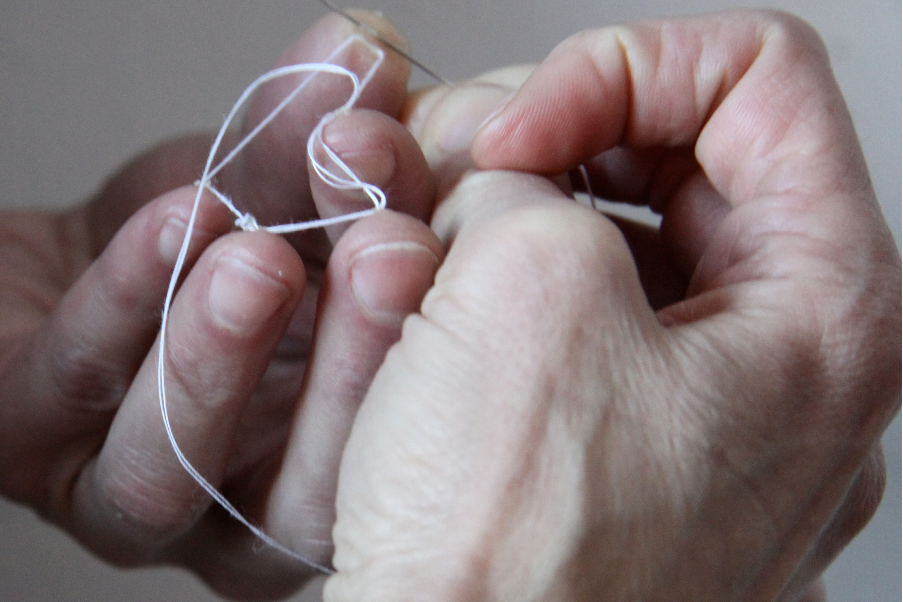 childish objects\ my grandmother… by nichola feldman-kiss, 2009

Vtape and the Centre for the Study of Black Canadian Diaspora Present
curated by Temple Marucci-Campbell
JANUARY 26 – FEBRUARY 2, 2022 streaming on the Vtape website. www.vtape.org
Be sure to stay tuned as the other titles in Temple's program become available on the Vtape website each Wednesday until February 9, 2022, when Temple will be in a LIVE ON-LINE conversation with the artists in her program. And on February 16, 2022, the second program of this partnership, Fabiyino Germain-Bajowa's TELL THE BODY, begins with a live introduction.
nichola feldman-kiss, childish objects\ my grandmother took command from her bed. she had a habit of clutching her seized hand become claw to her chest. her fridge was always stocked with lovingly prepared Jamaican dishes in the happenstance of visitors, 2009, 11:11.
nichola feldman-kiss is a Tkaronto-based multidisciplinary artist who asks what it means to be an individual who can embody a multitude of histories and knowledge. She uses her video practice to explore the relationship between bodies and identity. In this work from 2009, feldman-kiss uses her body as an alternative way of remembering, questioning what a personal archive can look like when influenced by diaspora. Through the act of sewing white thread to her fingers she is activating her hand as an object of memory, and tapping into an archive through sensorial confrontation.
Temple Marucci-Campbell is a student at OCADU studying Criticism and Curatorial practices. Her research practice focuses on the intersection of Art and food, where food is a transmitter of sensory knowledge. Marucci-Campbell uses her research practice to connect with her ancestral history and explore alternative ways of remembering.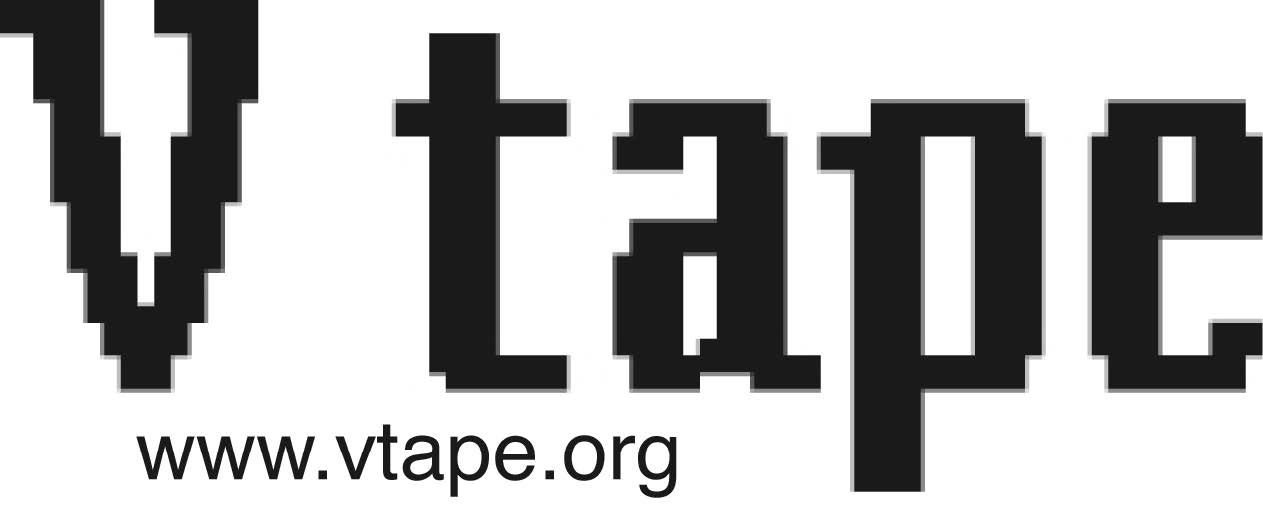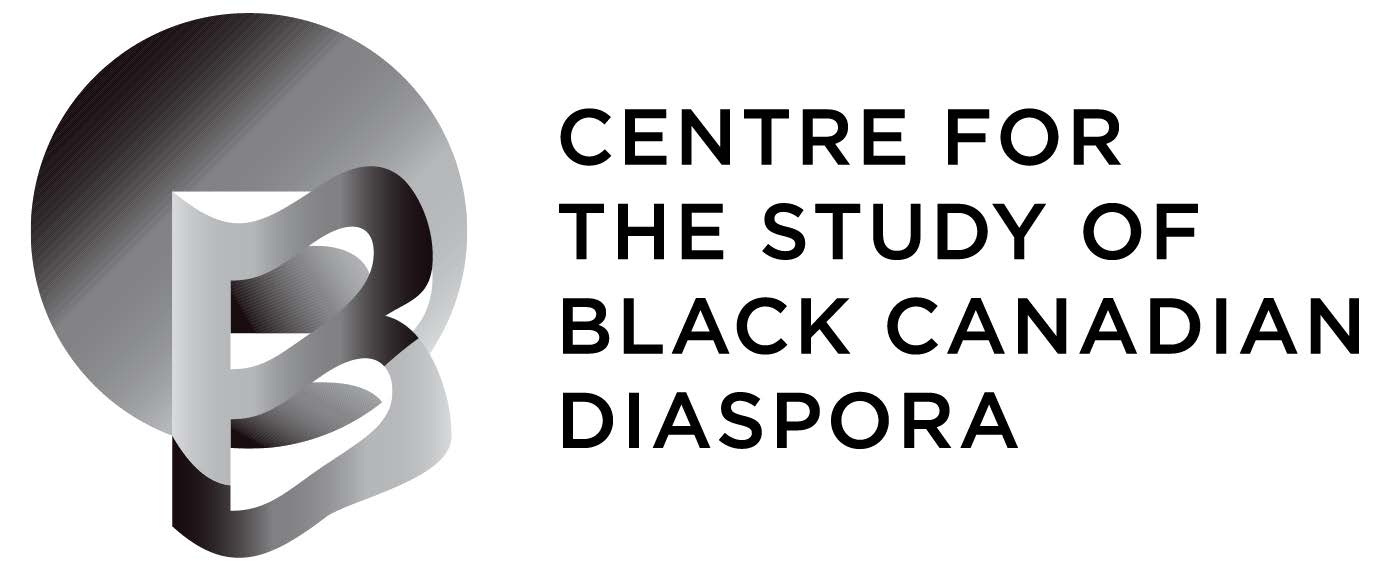 ---
An exhibition of video installations that explores themes of climate change and environmental crisis
We are excited to share this latest project curated by Layne Hinton & Rui Pimenta of Art Spin in a large industrial space featuring the work of artists: Christina Battle, nichola feldman-kiss, adelheid / Heidi Strauss and Lyla Rye.
THE SPACE:
300 Geary Ave. is an industrial warehouse space located on the north side of Geary just west of Dufferin St. The space is unheated and we recommend dressing for the outdoors. The exhibition is on the ground floor which is wheelchair accessible, however it does have an uneven threshold and unfortunately the washroom is not wheelchair accessible.
ABOUT
An exhibition of video installations that explores themes of climate change and environmental crisis
October 15-17, 2021 at 300 Geary AVE.
curated by Layne Hinton & Rui Pimenta
THE EXHIBITION:
Installed in a large industrial warehouse space, The change of any changeable quantity is an immersive and experimental exhibition of video art by artists Christina Battle, nichola feldman-kiss, Lyla Rye and Heidi Strauss that examines elements of change and instability we increasingly experience as we move ever closer to climate catastrophe. Somewhat unintentionally, these videos each speak to one of the four natural elements, which Ancient Greeks believed were the basis of all matter and were unchanging in nature. In an era of extreme environmental change, the exhibition title draws from the definition of the mathematical symbol (∆) found in the title of Christina Battle's work that represents the changeable quality of any equation.
In the case of the works in this exhibition the viewer is invited to consider the vast possibility of change itself, both in terms of the harm we have inflicted on our natural world and the imperative of recovery we ignore at our peril.
Christina Battle's fiery video considers the gap between our current crisis and the policies that are needed to create necessary and meaningful change. Lyla Rye's video of clearcut earthen landscapes is a cross-generational collaboration that uses cellphone footage shot by tree planters and transformed by the artist, through manual stabilization, in an attempt to achieve a technical and metaphoric sense of balance. nichola feldman-kiss takes viewers through a digitally constructed underwater landscape, including icebergs that overwhelm through their indecipherable scale. Heidi Strauss's video explores invisible presence and absence through airy spaces where the line between outside and inside, solitude and togetherness are inverted.
ARTISTS:
adelheid/Heidi Strauss, Christina Battle, Lyla Rye, nichola feldman-kiss (co-presented with the Koffler Centre of the Arts)
Partners & Funders: #Showloveto, Koffler Centre of the Arts, Geary Factory Lofts, Toronto Arts Council, Canada Council for the Arts, Ontario Arts Council.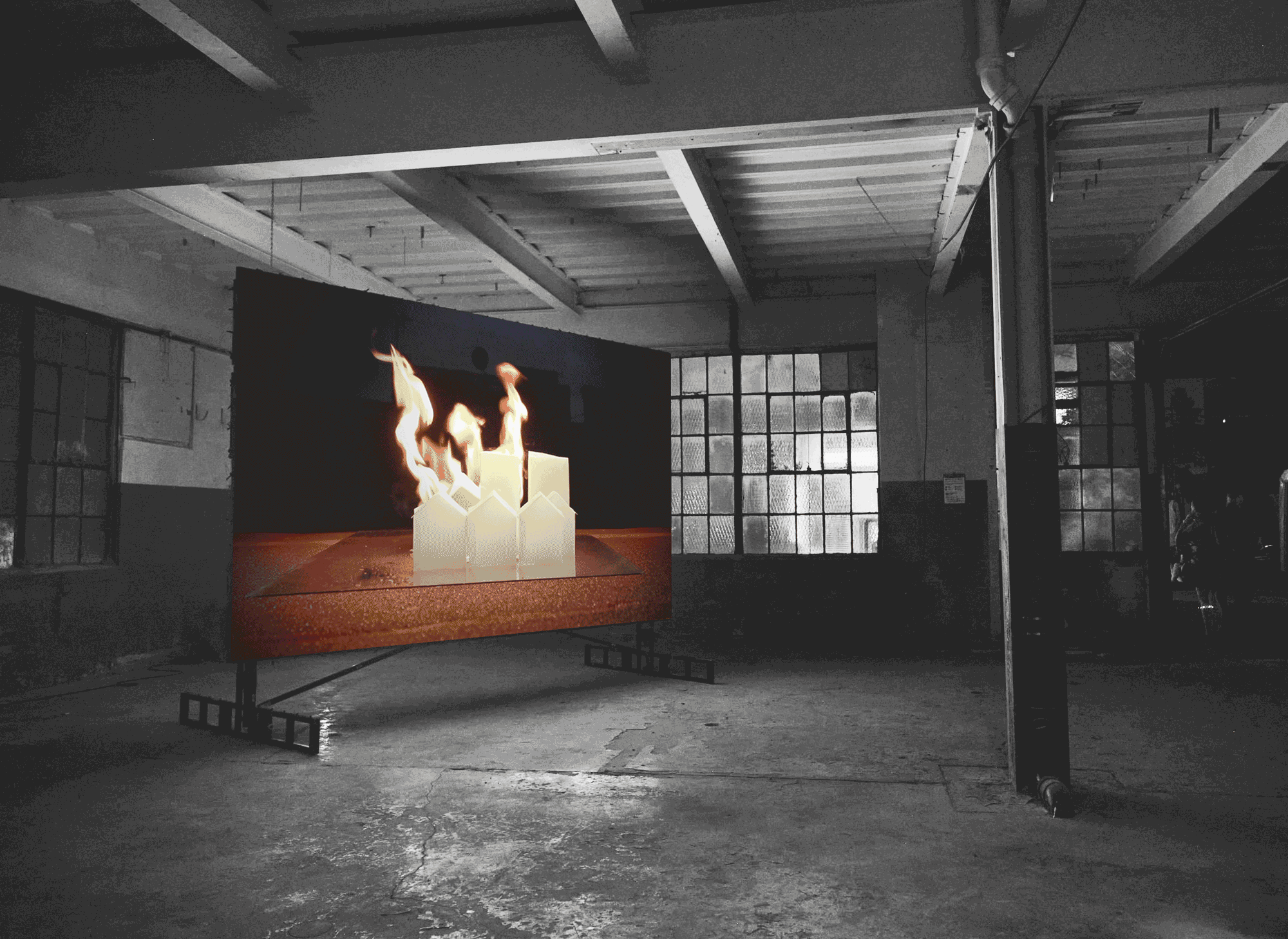 nichola feldman-kiss
you are water. you are sea ice (Study for Siren lll)
&
planet species animal human water Agent. in motion on the move in flight of the Earth of the Land of the Ocean her ecology. here and there sea and ice wind and current seed and settlement. (Study for Siren lll)
ABOUT THE PROJECT:
Study for Siren lll features 2 interrelated experiments with underwater data space. The artwork is conceived for quieting –a jewel of relief amidst the overwhelm of ungraspable immensity that is digital life separated from source.
Thanks to: Tovi Gruzman, GTR Industries and Adrienne Matheuszik, Derya Akkaynak, and Ocean Quest Adventures
ABOUT THE ARTIST:
nichola feldman-kiss is a Toronto based artist exploring relational interpretations of body and embodiment, identity and autobiography, witness and traumatic memory. Their hybrid media installations –pristine as laboratory craft, ask us to reconsider hard questions about being conscious social bodies among the tattered boundaries of globalization. The National Research Council of Canada, the Ottawa Hospital Eye Institute, the Department of National Defense, and the United Nations, among others, have hosted the artists' research. feldman-kiss holds an MFA from California Institute of the Arts.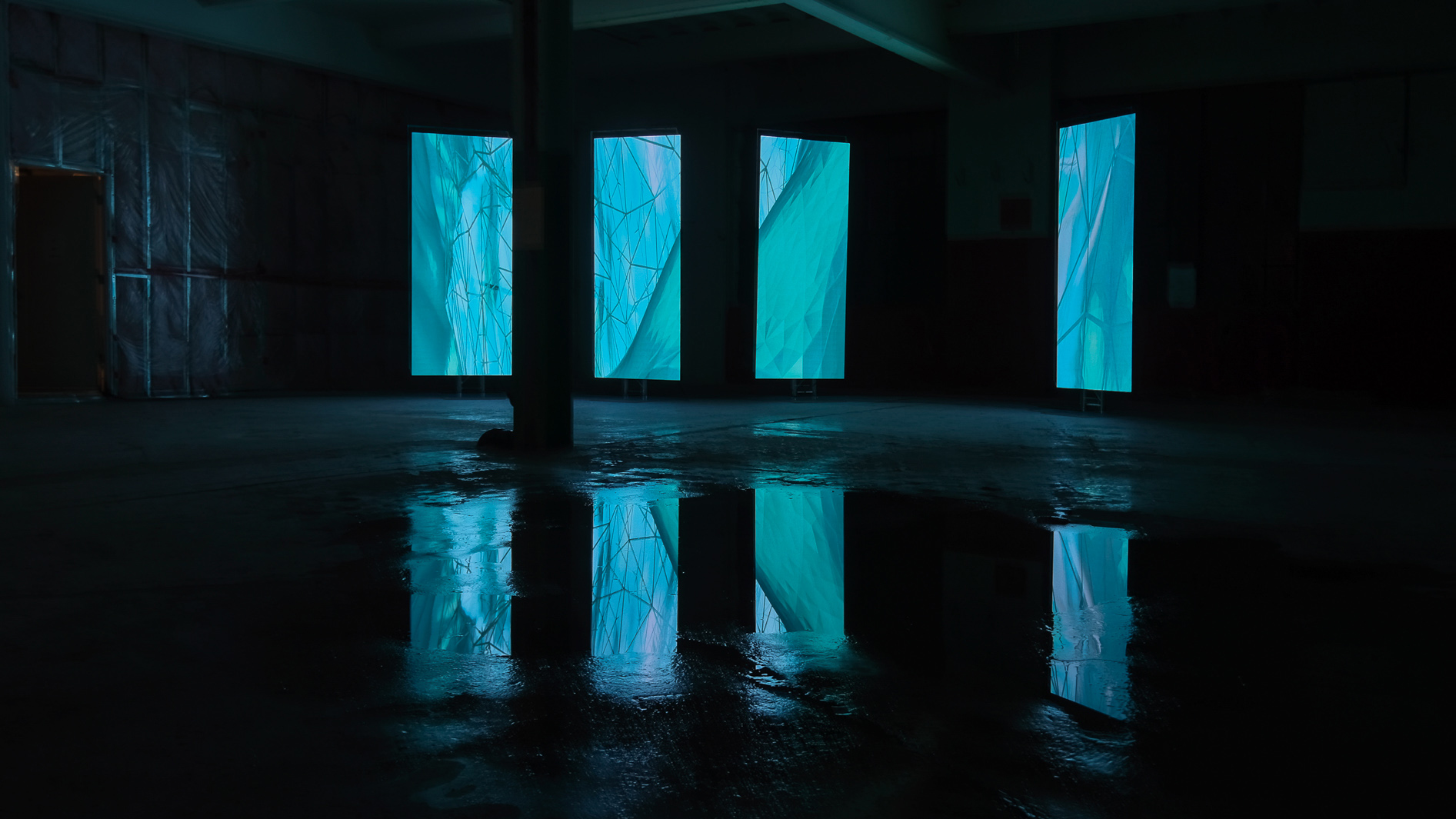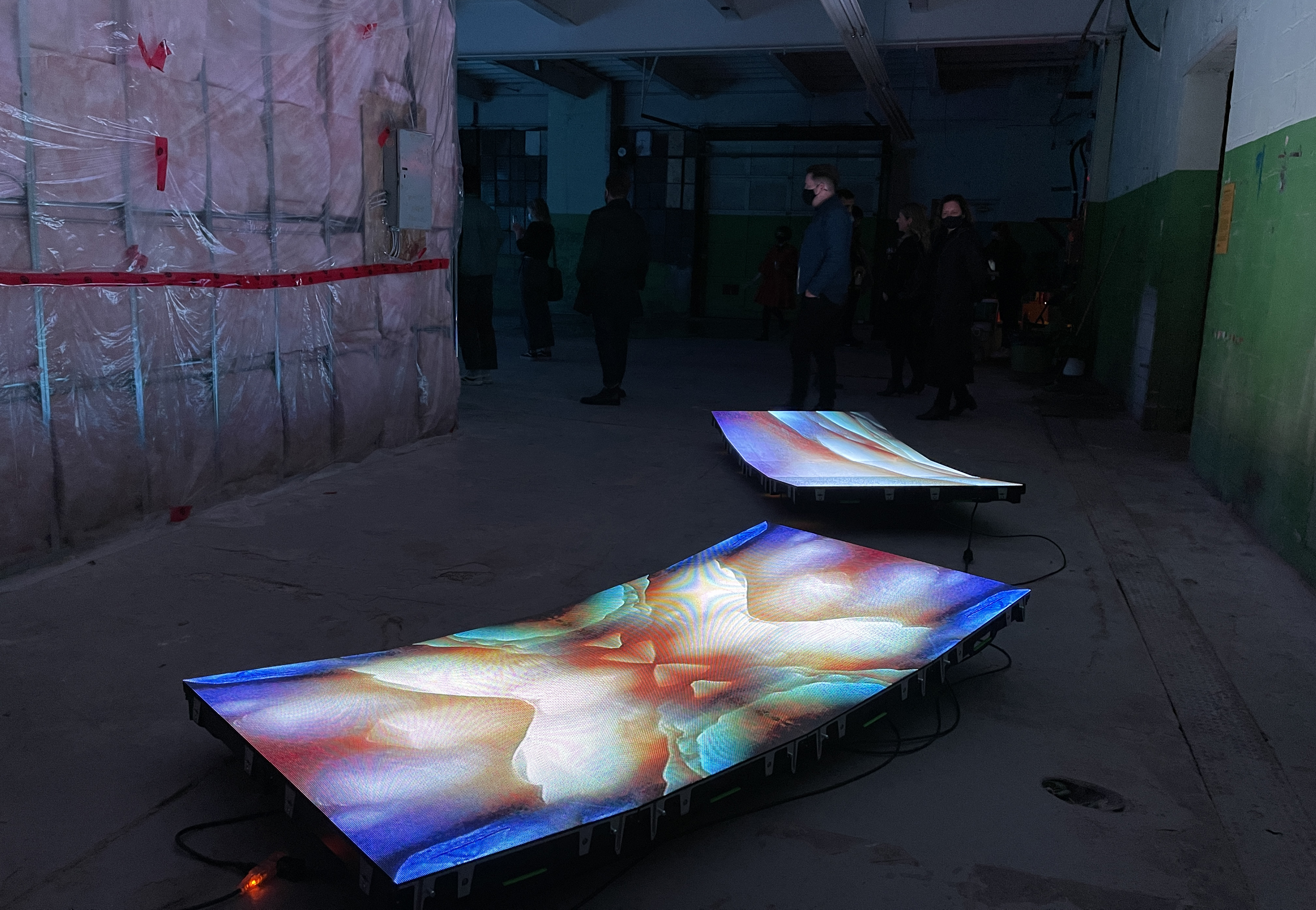 ---
critique and analysis
---
Pushing against the Stream: An interview with nichola feldman-kiss by Adeola Egbeyemi, MMA March 2022
---
Dreaming with Siren lll, by Anita Girvan, in the monograph, nichola feldman-kiss | Refuge, Editor Pamela Edmonds, McMaster University Press Hamilton forthcoming fall 2022
---
Consider the censured., by Luther Konadu in the monograph, nichola feldman-kiss | Refuge, Editor Pamela Edmonds, McMaster University Press Hamilton forthcoming fall 2022
---
The Kinetic Art of nichola feldman-kiss, in The Quantum Revolution: Art, Technology, Culture by Arthur Kroker and David Cook, University of Toronto Press forthcoming spring 2023
---
Quantum Art of Bourgeois, Smith, Horn and feldman-kiss, in The Quantum Revolution: Art, Technology, Culture by Arthur Kroker and David Cook, University of Toronto Press forthcoming forthcoming spring 2023
---
bodies of work: an interview with nichola feldman-kiss, by Robert Enright, editor Mika Walsh in Human/Nature (Border Crossings Magazine Winnipeg CA) May 2022
inquire for pdf
---
---
Curating Human Remains: Bones of Contention in the Work of nichola feldman-kiss, by Michelle Gewurtz and Catherine Sinclair in the Journal of Curatorial Studies (Intellect UK) Winter 2019
---
Confluence and Cultural Hybridity, by Rebecca Basciano in the exhibition catalogue, Adadisokamagan | Nous connaitre un peu nous-memes \ We'll all become Stories: A survey of Art in the Ottawa–Gatineau Region (Ottawa Art Gallery Ottawa) 2018
---
between here and there: Fragments in Search of a Visual Poetics of Form Robert Enright and nichola feldman-kiss in dialogue, by Robert Enright and nichola feldman-kiss, in the exhibition catalogue nichola feldman-kiss | Witness (Ottawa Art Gallery CA) 2016
---
nichola feldman-kiss | Witness, exhibition review of nichola feldman-kiss | Witness, Ottawa Art Gallery, by Noor Alé (National Gallery Canada), in Public 53 (Intellect Journals Toronto CA) Winter 2016
---
The Sensing Body as Witness, essay by Sara Matthews, in the exhibition catalogue nichola feldman-kiss | Witness (Ottawa Art Gallery Ottawa CA) 2016
---
nichola feldman-kiss | Witness, by Michelle Gewurtz and Catherine Sinclair, in the exhibition catalogue nichola feldman-kiss | Witness (Ottawa Art Gallery Ottawa CA) 2016
---
States of Precarity: Sandra Johnston, nichola feldman-kiss, Rehab Nazzal, by Christine Conley in n.paradoxa Volume 35 War/Conflict pp. 5-15 (n.paradoxa international journal of feminist art UK) January 2015
---
Terms of Engagement: Averns, feldman-kiss, and Stimson, by Erin l Sutherland in the Journal of Curatorial Studies Volume 4 Number 2 (Intellect Journals Toronto CA) 2015
---
Terms of Engagement: Averns, feldman-kiss, Stimson, by Christine Conley in the exhibition catalogue Terms of Engagement: Averns, feldman-kiss (Mount Saint Vincent University Art Gallery Halifax, Agnes Etherington Art Gallery Kingston, and the Esker Foundation Calgary CA) June 2014
---
MACHines, by Alain Thibault, Editor/Translator Emmanuel Cuisinier in the exhibition catalogue, MACHines Centre des arts Enghiens les Bains ( Île-de-France, France FR) 2012
---
Uncanny Figures and mean body, by Kim Sawchuck and rest (portfolio) in Prefix Photo Magazine (Prefix Institute of Contemporary Art, Toronto CA) Spring 2008
---
nichola feldman-kiss | mean body, by Diana Nemiroff in the exhibition catalogue nichola feldman-kiss | mean body (Carleton University Art Gallery Ottawa CA) 2006
---
Uncanny Figures and mean body, by Kim Sawchuck in the exhibition catalogue nichola feldman-kiss | mean body (Carleton University Art Gallery Ottawa CA) 2006